EDGE Change Model
The EDGE Change Model provides an organizing framework for thinking about the multi-dimensional process of advancing gender diversity, equity, and inclusion (DEI) within an academic engineering college setting.  Progress at the college level recognizes that gender DEI work incorporates institutional and departmental levels as well, and that deans must leverage external partnerships, and networks to generate and support a gender diverse faculty.
Within the college context, the model focuses on three primary areas:  Recruitment, Faculty Orientation, and Retention.  Both Recruitment and Retention incorporate key subsets of activities (see Figure 1).
Figure 1:  The EDGE Change Model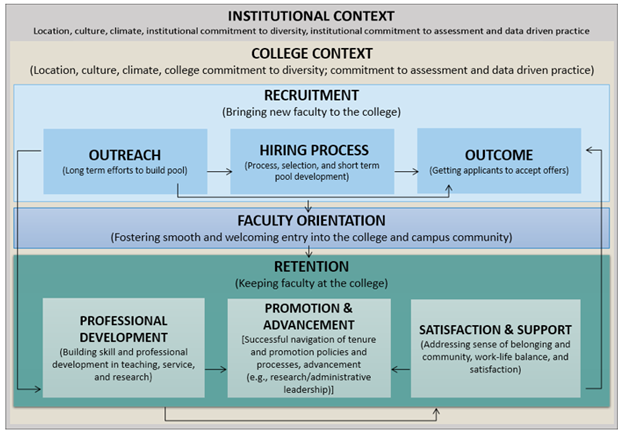 The Guiding College Efforts to Promote Faculty Gender Diversity, Equity, & Inclusion: A Conceptual Model & Self-Assessment Tool provides more detailed information about the EDGE Change Model, and how the Model serves as the organizing foundation for the two-part EDGE College Self-Assessment Tool.